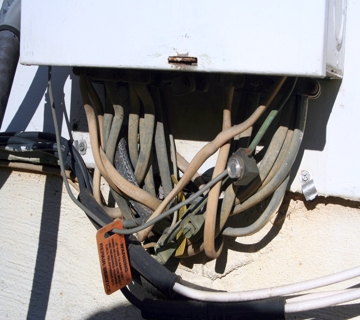 Dangerous Residential Electrical
This outdated electrical panel had several serious safety deficiencies.  These included exposed bus bars, missing fasteners, and exposed house wiring.
ORMECO technicians corrected these safety deficiencies.
Exposed Bus Bars
Several circuit breakers are missing from this panel; however, no effort was made to cover the exposed openings.  A very dangerous condition, as objects can be inserted through the holes and come into contact with the bus bars.
Exposed Wiring
House wiring was exposed.  UV radiation damaged the insulation and there is cable TV wiring inserted through the same penetration as the house wiring.
New Cover fabrication
Here, an ORMECO technician is fabricating a new cover to hide the exposed house wiring.
NEW cover
Using a sheet metal break, the new cover is bent in order to fit the existing electrical panel.
New cover
Here, the new cover is painted and ready for installation.
New blank covers
The front cover of the breaker panel was outfitted with new blank covers; these prevent objects from being inserted into the panel.
repainted breaker cover
After riveting new blank covers into place, the breaker cover was repainted.
new wiring cover
Wiring originally exposed is now properly shielded from further damage.
refurbished breaker cover
The refurbished cover is properly fastened; covers prevent objects from being inserted into the panel.