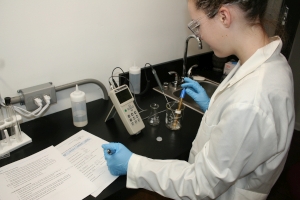 Laboratory Testing
Here, an ORMECO technician is testing a water sample.  She is measuring pH and using a sulfuric acid titrant to determine phenolpthalein alkalinity.  ORMECO performs water quality testing that includes total hardness, alkalinity, pH, total/free chlorine, and much more.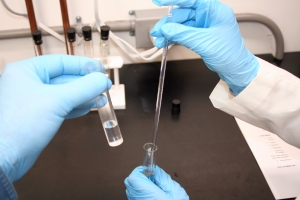 Combustion Analysis
PD/VD leak testing
CFC/HFC Leak Detection
Radon Testing
ORMECO provides power quality testing, including data capture and thermal imaging; water quality analysis; pressure decay/vacuum decay (PD/VD) testing; and leak detection services.  Our personnel are highly-trained technicians, qualified under a program that follows the American Society for Nondestructive Testing (ASNT) Recommended Practice No. SNT-TC-1A, Personnel Qualification and Certification in Nondestructive Testing.